Its been half term, and we have had a very busy week! I have really struggled with my Back this week, and I think that its a combo of having all the kidlets at home and being super busy and not getting enough sleep.. Still, I see the consultant tomorrow and am hopeful of a solution.
I feel like my blog has gone from this super exercise fueled upbeat whirlwind to this whingy food focused narrative and I apologise. It was been 2 months since I was last able to run and over 4 weeks now since I have used my beloved turbo. I have decided that if the consultant found nothing in last weeks MRI, then I have to get back to doing something. I miss the post-exercise highs, the fatigue of having pushed myself and the over-all feeling of achievement. I miss my gym camaraderie with Lucy and I am feeling soft and sloth like.
So back to this week..
Monday
On Monday we went to Elle's house for afternoon coffee and play - she blogged about it here. It was good see everyone, and I'm sorry you were feeling nervous Elle x x
The bigs both took their own amusement (Lochie in the form of his Tablet, Bebe in the form of colouring pencils) and they were great with the smaller children.
Louise particularly had a game with her 'Who know whose nose', that she clearly plays a lot with Bethan, see here - fabulous for toddlers! Niamh LOVED it! (As did Bebe!!)
Tuesday
On Tuesday Paul went to Edinburgh over night with work, so he was at home in the morning and during the afternoon we dropped him at the airport before going swimming with Dave and Maia. Amala wasn't feeling very well, so Lucy stayed at home with her. Dave was super helpful, as I was in 'el crippo' mode by the end. Crouching in a shallow pool and playing with 3 children doesn't help my current Back predicament. But they loved it, and that was the main thing. (Dave and Lucy are so generous with their time. Adult/child ratio in the pool means I can't take my three by myself, so they go with us during school holidays and everyone gets to swim. Which means Dave was doubly generous making sure to come despite Amala being poorly. Thank you so much xx)
Wednesday
My sister, Emily visited, with my Nephew, Leif, and I talked about our lovely day here.
I also planted my first seeds of 2013. My friend Jo, who I have mentioned before, has started a new blog dedicated to her gardening exploits (see here) and it inspired me to make a start.
I planted lavender, mint and coriander. I was so surprised at the minute size of the lavender seeds and at how strongly they smelled of lavender!! One of my plans this year is to tidy up the front garden and I thought I would have a crack at growing some lavender from seed - I love plants from seed because its just me and my effort with their growing energy and potential, so its more rewarding that I can put that energy back into our garden. (Plus its cheaper!).
I also ordered an amazing bargain from Van Meuwen last Sunday. At the end of March I will get 70 perenial shrubs (plug sized) delivered for the bargain price of £9.99 (total of £13.95 with postage)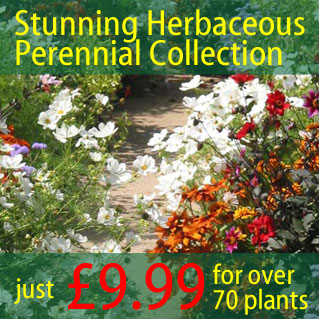 Please share this offer:

Facebook
Twitter

*Offer valid on the perennial collection only, strictly 1 special priced pack per order. Order code VMNE32Z activates offer. Offer ends midnight Sunday 17/02/13 and cannot be used in conjunction with any other offer or promotional voucher code.
Limited stocks available of this fantastic offer - you must place your order by latest midnight tonight, Sunday 17th February!

This collection of over 70 plants is fantastic value - containing at least 12 varieties all perfect for creating that magical herbaceous border you've been dreaming of. From statuesque delphiniums, to superb foliage plants such as heuchera, these plants will keep your garden full of colour throughout the summer. Once established, there are enough plants in this collection to create not 1 but 2 borders 6m long.
To get this collection for just £9.99 follow the links in this newsletter to automatically apply the discount. Or quote order code VMNE32Z in your shopping basket. Please note, the discounted price will appear in your shopping basket.

PLUS don't forget - P&P is FREE on all orders over £50 (after discounts)
Bumper 70+ plant perennial collection worth over £70 now just £9.99 with your discount.
For my birthday last year (see here and here - how little was Niamh! How short was my hair!), we tidied the garden and sorted out my sacred space, but it now needs filling and I will have more than enough to do this with my the end of March! Paul (who doesn't usually get involved with the garden) is going to dig everything over for me and I am SUPER EXCITED!!
Thursday
A lovely day at Maddalena's house, which I blogged about yesterday here. and then Felting in the evening - see that post here.
I also had my hair cut and feel much better for it. I'm still growing it out, but the back is sooo much neater now!
Friday
Today we went to Louise's house, and again the Bigs were amazing with the smaller children. So proud of them.
Vikki and I have been working on a project for Barney this week too. When they go to their speech and language group, they are learning to use 'PECS' (

The Picture Exchange Communication System (PECS)

is a successful approach that uses pictures to develop communication skills. It is appropriate for children and adults with a wide range of learning and communication difficulties including autism. See here) and so we took a gazillion photos of absolutely everything in their flat and all the people in Barneys life, so that we could laminate to our hearts content and make 'PECS' accessible to Barney at home.
Barneys Aunt and uncle (Hi Liz!!)
A typical breakfast for Barney.
I hope the idea will make life easier for Barney, and ultimately Vikki (and family) - in my ideal world (that probably only exists in my head,) they will be able to use the pictures to teach Barney how to show them what he wants and so ease his frustration.
Vikki, I hope I didn't force the idea on you, thank you for letting me take over..!!
Thank you for letting us use your laminator Rach X x
Saturday and Sunday
A quiet weekend, spent doing quiet activities indoors (It is 0 zero degrees outside and snowy!). Paul and the Bigs gutted the upstairs and I skyped with my Mum. I think we are all quite reflective at the moment. Perhaps my sombre mood has effected everyone, but I think we are all in limbo at the moment.
Lucy took me to the gym this morning (Sunday) and I did a gentle Vereo workout, I feel good right now but am fearful of payback as the day goes on. I was brave and got on their scales and was rewarded with being half a stone lighter there, then I am at home, and I had had breakfast and was fully clothed there too - YAY!
I also went in the pool, but it was super busy and I got out in frustration after 15 mins.
I am either quicker than I was, or the fast lane was full of slow people today. I am not the worlds quickest swimmer, but I do follow etiquette - if you're going quicker than me, I will wait at the end of my length and let you over take me. Why does no one else do this??? Why do slower people insist on trying to get a head of you at the turn and then just slog it out? So FRUSTRATING! Ahem. Sorry Clanettes, rant over!!
Happy Sunday - a checklist for me to work on x x